License and notary Public Information
If you have any questions, please contact the County Clerk's Office at 660-542-0615.
I am the Carroll County Clerk and Election Authority.   
I was elected in 2022 to serve the next four-year term.  I started this journey by working for four years as a Carroll County Poll Worker before becoming the Elections Deputy in 2020.
I look forward to working with you in various capacities: elections, taxes and human resources.  
If you have  questions or concerns I am always happy to help or you can contact me at 660-542-0615 Ext. 3 or countyclerk@carrollcountymo.gov.
Deputy clerk:
Tammy Hawkins
Tammy is the Payroll Deputy who is responsible for keeping all County employee time records, paychecks, insurance information, CERF records, Accounts Payable, Notary Public renewals, liquor licenses, auctioneer licenses and ATV licenses. 
Elections Deputy:
carisa o'dell
Carisa is the Elections Deputy/Deputy Clerk who is responsible for maintaining the Missouri Central Voter Registration database for Carroll County and helps prepare all the information needed at the polls election day.  Carisa also maintains the County Commission agenda and the minutes for all County Commission meetings.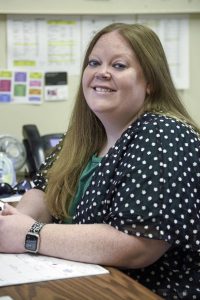 Mike Pelican: Building and Grounds